Despite all my efforts to keep them little, my sons keep growing. I actually have a teenager in my house as of a month ago (pardon me why I freak out a little bit…)! The last few years I've noticed that I take fewer and fewer portraits of them. In fact, the last studio session I did with them was 3 years ago. That's almost embarrassing to type! But this has made me realize that this is sort of a forgotten age for young people. They get lost in the cracks between toddler mini-sessions and high school senior portraits. And that astounds me because it's such an important age. SO much change and growth happens in these early teenage years. It is worthy of capturing that change. THEY are worthy of capturing.
…and so, I am beyond pleased to announce my new "Capturing the In-Between" fine art portrait session offering exclusively for tweens and teens (8-18!). This unique offering allows these incredible young people to be themselves, and showcase their personality and passions. This is their time to SHINE! I will work with them to create their "look" — from wardrobe to accessories to styling, this portrait session is all about who they are and how they want to be captured. It is a time for them to be real, to be bold, to be honest, to be silly, to be themselves. To SHINE!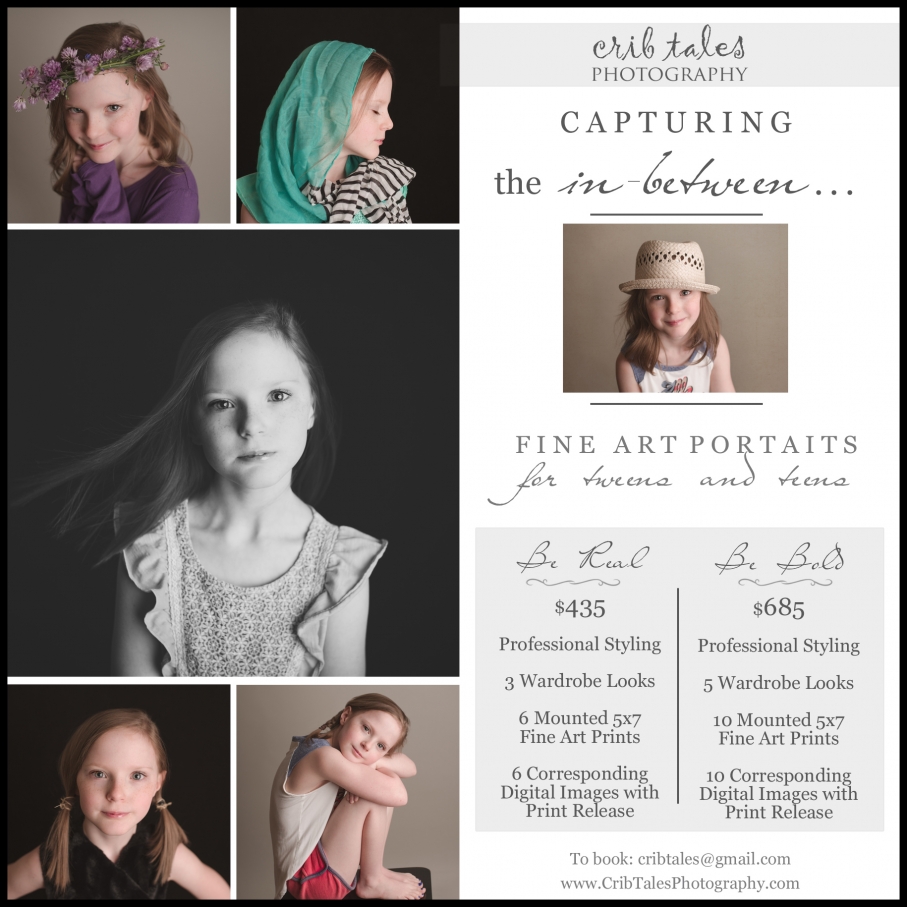 To book a portrait session for the amazing young person in your life, contact me at cribtales@gmail.com for all the details. All sessions take place in the Crib Tales Photography studio in Castle Rock, Colorado. Sessions are for one tween or teen at a time so that they can have my full attention in capturing their unique personality. Contact me for multiple child options. Offer may not be combined with any other offer or portrait session.
Let's capture something special!